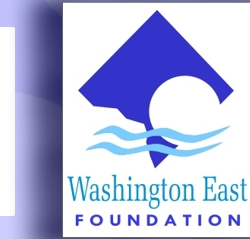 The District of Columbia's
Wards 7 and 8
are collectively called
East of the River or East Washington
. More recently the area has been dubbed "Ward 15" because of the opportunity for collaborations among businesses, community leaders, and government leaders.
Key tenets for the District's community growth and economic development goals—namely revitalizing neighborhood commercial centers, improving residents' job skills and access to jobs and careers, and fostering the success of locally owned small business—when matched with land availability, the District's planning policies, and metropolitan regional growth trends make Wards 7 and 8 the ideal leads for innovative and dynamic solutions to the District's goals. City reports indicate that nearly $7 billion in public and private projects are in various stages of planning or construction in Wards 7 and 8!
East Washington Region Snapshot

14.11 square miles
Estimated population of 128,165. By 2025 population

1

is expected to increase in Ward 7 to 73,300 and in Ward 8 the population projection is 85,000

2

. Average population density for each ward is 27,450 per square mile. Regional combined median income of $54,811; District's median income is $45,927.
Combined Wards 7 and 8's youth population aged 19 and under totals nearly 70%.
Three public high schools—one in Ward 7 and two in Ward 8. The Wards have three high schools that are public charter schools.
1. Far Northeast and Southeast Area Element, May 2006 Draft Ward 7 Comprehensive Plan, Table FNS-1, Page 7
Resources
Washington DC Economic Partnership's 2009 Neighborhood Profiles
Office of Planning
Neighborhood and Revitalization Plans
Anacostia Waterfront Initiative Framework Plan
Anacostia Waterfront - Realizing the Vision