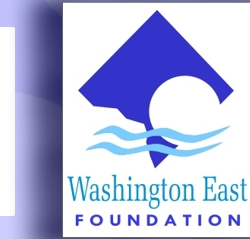 The Washington East Foundation
The Washington East Foundation (WEF) was founded by residents from the Hillcrest and Penn Branch neighborhoods in Ward 7. The visionaries included Paul Savage, Vincent Spaulding, Herbert Boyd, Carolyn Lewis, Linda Jackson, and Donald Murray.
Mission:

The WEF is an alliance of Ward 7 and Ward 8 residents working together to promote a sense of community between the wards and to improve the quality of life of residents. WEF is a 501(c)3 organization that operates a limited number of projects, serves as a fiduciary agent for charitable civic groups, and engages in grant-making to benefit East Washington and citywide civic activities.
WEF values:
Safe, clean communities
Results, performance, and accountability
Positive images of the people and communities of East Washington
High expectations and proactive leadership